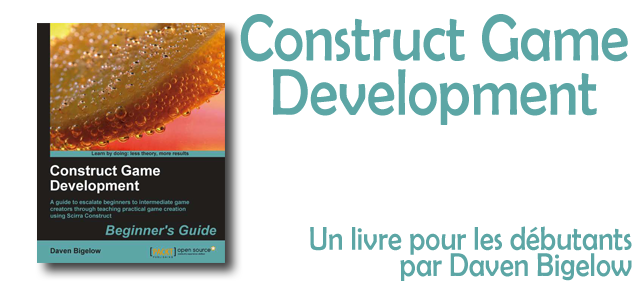 Voici un livre de Daven Bielow sur le développement de jeux avec Construct Classic, c'est en anglais mais c'est assez rare de voir sortir des choses sur Construct Classic qu'il est important de le signaler.
Voici les différents chapitres du livre :
Table of Contents
Preface
Chapter 1: Our First Look at Construct
Chapter 2: Hello World! Construct Style
Chapter 3: Adding the Challenge
Chapter 4: Making Noise
Chapter 5: Practical Physics
Chapter 6: Custom Levels
Chapter 7: Platformer Revisited, a 2D Shooter
Chapter 8: I'm Throwing a Grenade!
Chapter 9: Our Final Moments
Appendix: Pop Quiz Answers
Pour vous procurer ce livre c'est par ici : http://bit.ly/K9ZFmc
Vous pouvez télécharger un chapitre gratuitement pour vous faire une idée ici
Si vous vous le procurez n'hésitez pas à en faire un retour sur le forum.